I love me some M.O.D.O.K. And I'm not the only one. I mean, who doesn't like a giant head with tiny T-Rex hands and a spoiled baby attitude? I even have two giant MODOK mugs that I drink my tea from every morning.
The Mobile Organism Designed Only for Killing first appeared way back in 1967 in Tales of Suspense #93, where Stan and Jack pitted him against Captain America. That issue was published on June 1, 1967.
Since then, there's been no end to the wide variety and joyous variations.
So, I think it's time for a MODOK top 10–my favorite versions of my favorite villain!
THE TOP 10 VERSIONS OF M.O.D.O.K.!
10. Mental Organism Designed Only for Roller Derby

It's From an X-Men mini (To Serve and Protect) that is otherwise meh. But come on. Roller Derby MODOK.
 9.  MODOK MAKES A GAMMA GIRL

Okay, this isn't a MODOK. But it was fabulous. Betty Ross was first exposed to gamma rays by MODOK, when she came to him naked (literally) seeking revenge on The Hulk for killing her husband. He turned her into Harpy, who didn't stick around for very long. Too bad.  Lots of unexplored potential here.  Unsurprisingly, this bit of gooey weirdness was written by Steve Englehart.  Herb Trimpe did his usual workmanlike art. From Hulk #168-169.
8.  MODOK SUPERIOR from MARVEL ADVENTURES #9
Jeff Parker scores with a kids-line book in which MODOK remakes all of the Avengers into his own image.  It's great because Modok always kind of thinks of himself as God.  Jeff loves his MODOKs.  He almost got another one on this list, from Fall of the Hulks…
I liked (but didn't love) Parker's Red Hulk run, but the MODOK storyline was well worth the admission price. M.O.D.O.K. Superior!

7.  SUPER-VILLAIN TEAM-UP: M.O.D.O.K.'s 11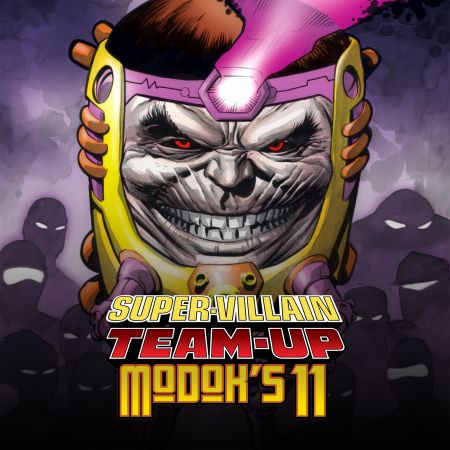 Fred Van Lente and Francis Portella create an extended origin tale for the best villain of all time. Look how sinister he looks on the cover. So cool.
6.  M.O.D.A.M.

and S.O.D.A.M.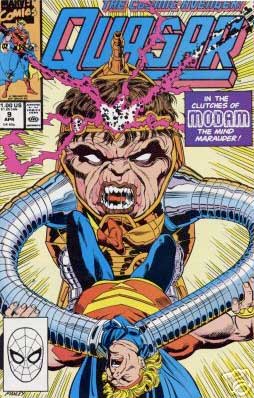 Steve Englehart!  In 1988, Steve and Al Milgrom's West Coast Avengers #36 debuted none other than Hank Pym's dead ex-wife (actually she really wasn't) turned into SODAM (Specialized Organism Designed for Aggressive Maneuvers), but the character then became MODAM (Mental Organism Designed for Aggressive Maneuvers) when she went up against Quasar, in Quasar #9 by Mark Gruenwald–a story brilliantly titled "Have Brain, Will Travel."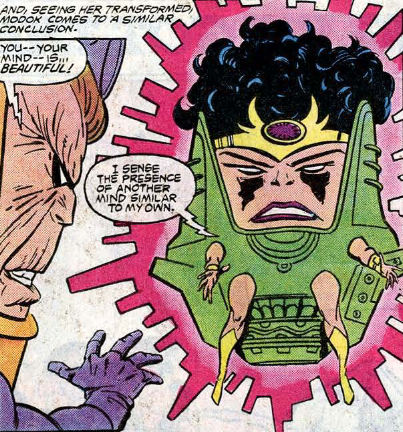 5.  Dead and Undead MODOK!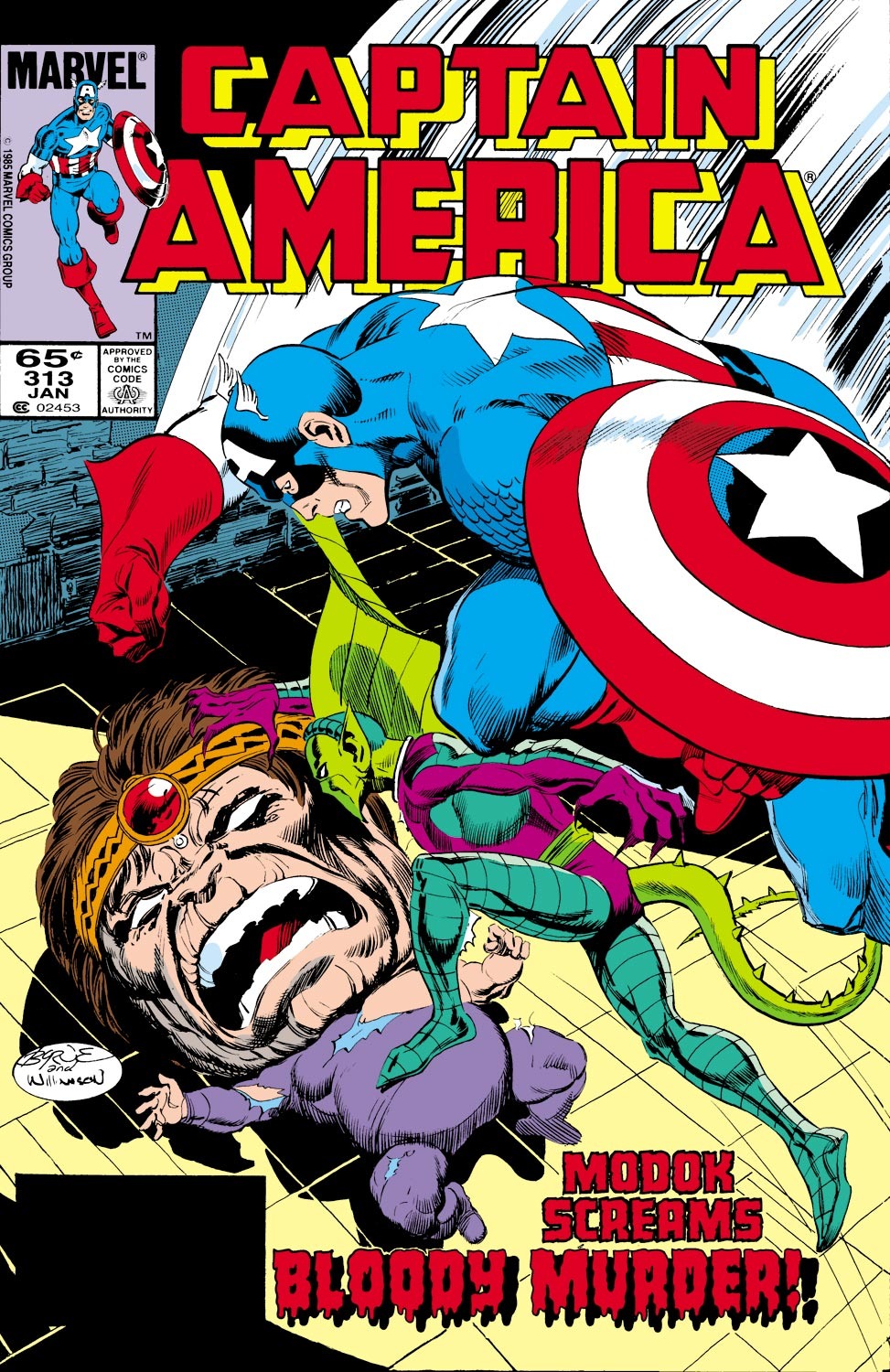 MODOK was assassinated in Captain America #313. And then he gets resurrected in Iron Man #205.
AIM scientist Yorgon Tykkio has dug up Modok's dead body and is using him as a remote control zombie. Even dead, he's a great villain.
4. MS. MODOK
Of course Lady Modok is a feminist and goes by "Ms."  Ms. Modok was created by Bill Mantlo and Sal Buscema in The Incredible Hulk #267, which hit the stands in 1981.  It was a time when Hulk was his silliest and most psychedelic–a great time to be reading the book.
A.I.M. created her to destroy Modok, who'd gone rogue, but eventually the two ended up falling in love. And then out of love. And then she converted back to non-Modok form and, get this, slept with Bruce Banner.
You gotta love 1980s comics.
3. M.O.D.O.G.
Sadly, he's not a dog.  He's a Mental Organism Designed Only for Genocide.  
But Matt Fraction writes a great MODOK story anyway.  But this would have been better:
2.  THE FIRST MODOK: TALES OF SUSPENSE #93-94
This story, one of my favorite Lee/Kirby comics of all time, introduced us to MODOK.  It's also the first time we learned that Captain America's shield is made out of an alien metal.  It wasn't yet called vibranium, but the concept came from here.  
1. ELVIS MODOK

Warren Ellis' Nextwave is one of the greatest comic books of all time. This is just one of the many reasons.