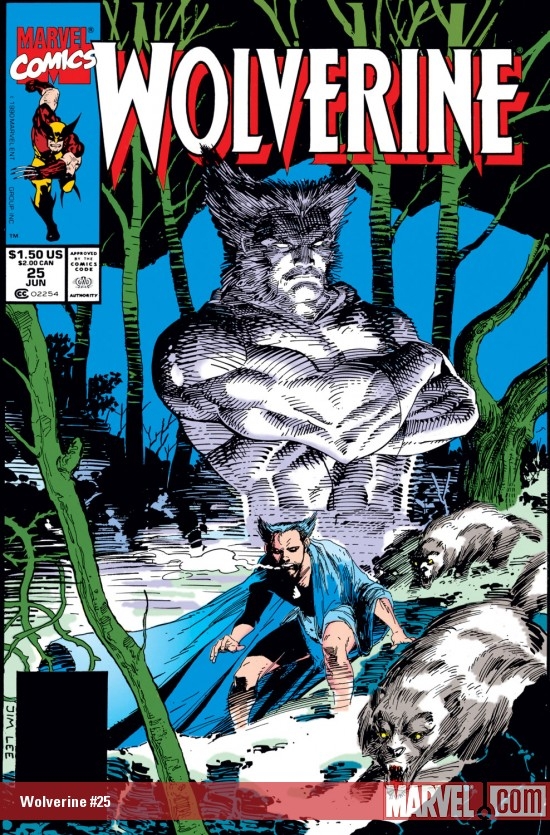 Former writer of Power Man and Iron Fist Mary Jo Duffy gets a turn with one of Marvel's best-selling characters.
The bulk of her run is one story: The Lazarus Project.  But she starts in #25 with a really cool idea of Logan as a young boy fighting actual wolverines.  But it's unclear whether this is a "true" story or a fairy tale, because in real time Wolverine is telling the story to a young kid who's been bullied.  Kind of a take on the "Kitty's Fairy Tale" concept. It's a one-off where Duffy gets warmed up. #26 is also a one-off.
The Lazarus Project is another Madripoor storyline involving genetic engineering and a robot called "Master Form."
Jessica Drew is in the story in a major role as a private investigator. She gets hurt by the big bad robot and has to back to the U.S. I'm sick of seeing her this way. Time for her to get her powers back. I'm hoping her return to the States is the beginning of that.
Karma's also in the story—remember that her Uncle, who has tried to kill her in the past, is a General in the Madripoor military. At the end of this she, too, exits Madripoor.
The only thing left is for Wolverine himself to abandon Madripoor.
This run of issues is fine, but not great. It doesn't help that for nearly every issue of her run, Duffy has a different artist. No chance to build up a rapport or sense of style.