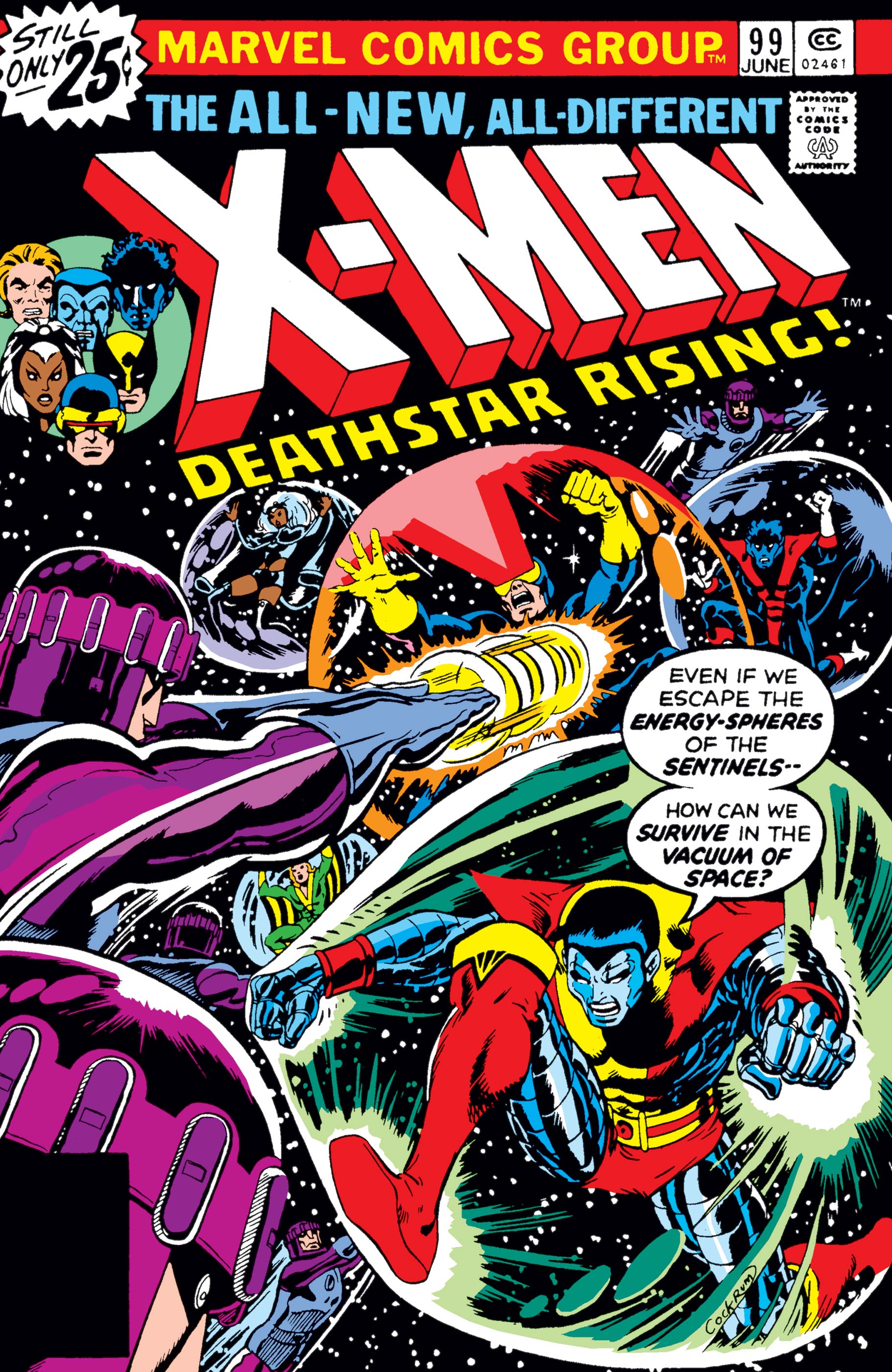 Well, that didn't take long, did it? In issues #99-100, Claremont and Cockrum bring back The Sentinels, and the movement by humans to eliminate mutants from the face of the Earth. It's also worth noting that Claremont already was writing the book as basically one long story–breaks between issues and "traditional" arcs were often indiscernible, and the team seemed to grow and change with every issue.

These issues also contained the team's first space shuttle crash in #99 (and their first trip into space, although not even as far as the moon). And there's a plane crash.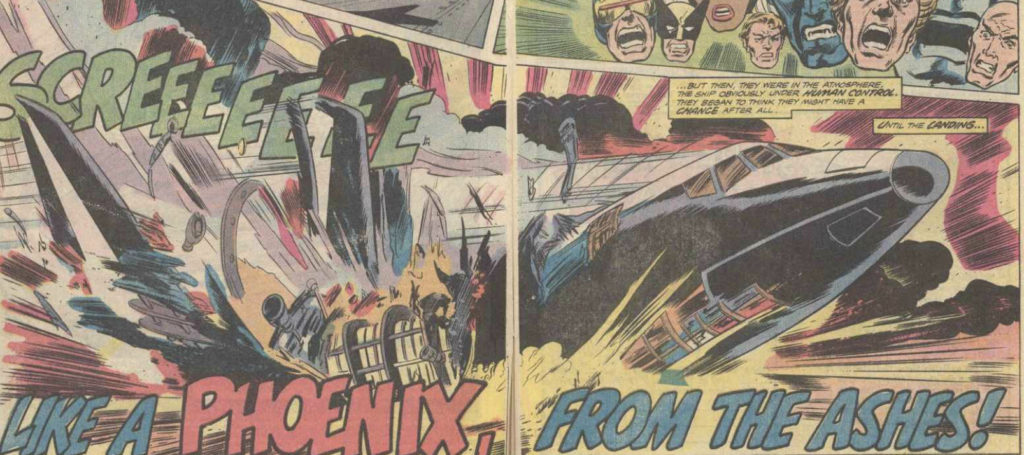 My crashing tag is strong.
Oh, and one other little thing happened, after the X-Men's shuttle got pelted with cosmic rays…
That's right. The rays changed her name, her power-set and her clothes. Uncanny X-Men #101 was the first appearance of Phoenix.
Note: I understand that Jean is possessed buy the Phoenix Force. At the time, though, nobody (I bet not even Chris Claremont) knew that. I am torn whether to tag Phoenix Force separate from Jean-as-Phoenix, and I've gone with not doing it. I'll create a Phoenix Force tag when the Force appears as a separate entity.
While on the moon, they fight sentinels who have the ability to look/have powers of the original X-Men.
That's pretty fun.
Also: Nightcrawler uses the holograms in the Danger Room to go undercover. So we get a Groucho Marx and (Clark Gable?) appearance. Kinda.
Then…
That sweet little panel, where Storm shows her insecurity, was so well-remembered that it got a callback over 300 issues later in #445…
Issue #99 is also the first appearance of Black Tom Cassidy, in the shadows, and by #101 he's the full-fledged costumed handler of Juggernaut.
He's also the cousin of Sean "Banshee" Cassidy. He doesn't have any powers. Yet.
This version of Juggernaut is much improved, as it builds on the past.
As they are escaping from Juggernaut, Storm has a flashback to her childhood, which has marred by…Wait for it…A plane crash!
She has claustrophobia because she was trapped under rubble with the dead body of her mother.
Like most Juggernaut fights, this one ends in a stalemate when Juggy runs off.
Storm overcomes her claustrophobia…
We also learn about another Nightcrawler power: Hiding in shadows. It's cool, but it does kind of make you wonder: If this power is only being established now, why was he called Nightcrawler in the first place? Ponderous.
And speaking of ponderous, there is a rare sighting of Marvel Leprechauns in this story.
Wolverine is skeptical.
Finally, this is the first time that Colossus throws Wolverine. It's technically not a fastball special–it's just Wolverine is being a sexist douche bag and Peter decides to relocate him. But the seeds are planted.
And Misty Knight appears as the team tries to figure out what happened to Jean.
Finally, there is seeding for other stories–because Chris Claremont was famous for his complexity. First, Professor X is still "seeing" Lilandra…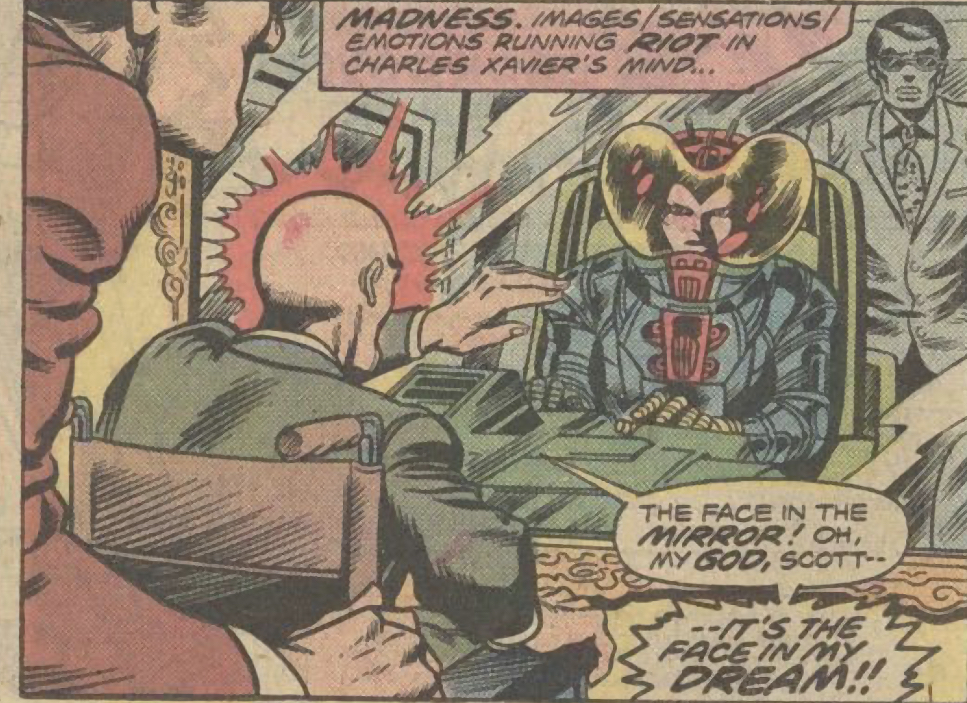 …And the Shi'Ar hunter Eric the Red is still at large, and appears to be working with Magneto (on screen).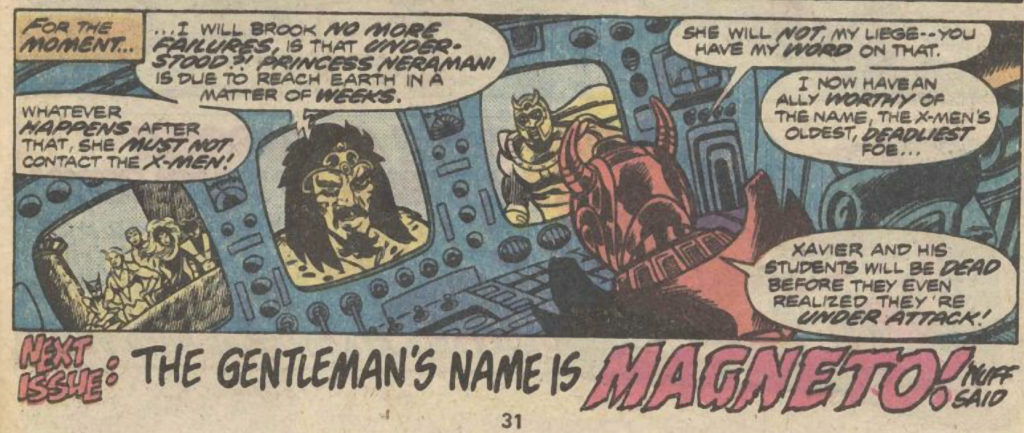 I know my post on these issues is all over the place, but frankly each issue is so dense it's impossible to do justice via a summary post. These are some great comics and you should read them for yourself. Comics today are nothing like this. That's not to say modern comics are any worse or better, just very, very different.