I have no idea what's happening here. The art is terrible and the story is confusing. Furthermore, as we've discussed already on this site, most of the characters aren't "real" (they're created by Franklin Richards). Does that make sense? Kind of. I mean, the kid wanted to save all the heroes so he pushed them into a fake world. But why, if he could have imagined whatever he wanted, would have imagined this…
The new (and "old") characters aren't "real" but Rikki Barnes–Bucky Barnes' grand-daughter, will make the transition from the "Heroes Reborn" world to the 616, so I've tagged her.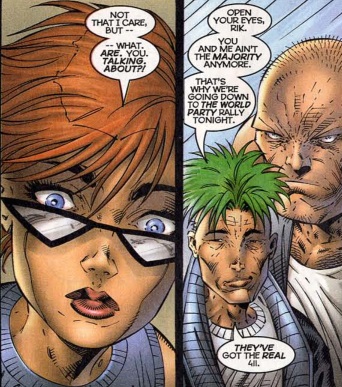 Also in issue #6, we already see signs that Marvel doesn't intend to stick with this crap. Cable starts being able to cross-over between the 616 and this shitty universe.
Cable kills MODOK. It's actually a fun little battle.
#6 is actually an important one because it also introduces one nostril Cap:
I'm guessing the super soldier serum deviated his septum? Or it's an error.
These books are just godawful. I'm not going to go into any more detail. They did spawn this classic pic though…
After these first six issues, Marvel fired Liefeld.
They ended Mark Waid's wonderful Captain America run for this???