There's been this hat that's been threading through Subby's solo stories, and in this issue we learn that it's called "The Serpent Crown." So technically, this is not the first appearance of The Serpent Crown, but it's the first time we get a name for it. And it's the first time it transforms to look like a bunch of snakes. Wiki says this is the first appearance. But I'm right and they're wrong. Nyah.

Anyway, it gives various powers to the person who wears it. Lady Dorma is seduced by it, and eventually it takes over Atlantis. So Dorma orders the human sacrifice of Sub-Mariner.
Namor himself seems to be immune to the crown's powers, but it's not entirely clear why.

A new villain, Karthon, fights Namor for possession of the Crown. We learn Karthon is part of another race akin to Atlanteans, which was also responsible for creating the Crown and, ultimately, losing it in Antarctica (where it was found by Paul Destine in issue #1).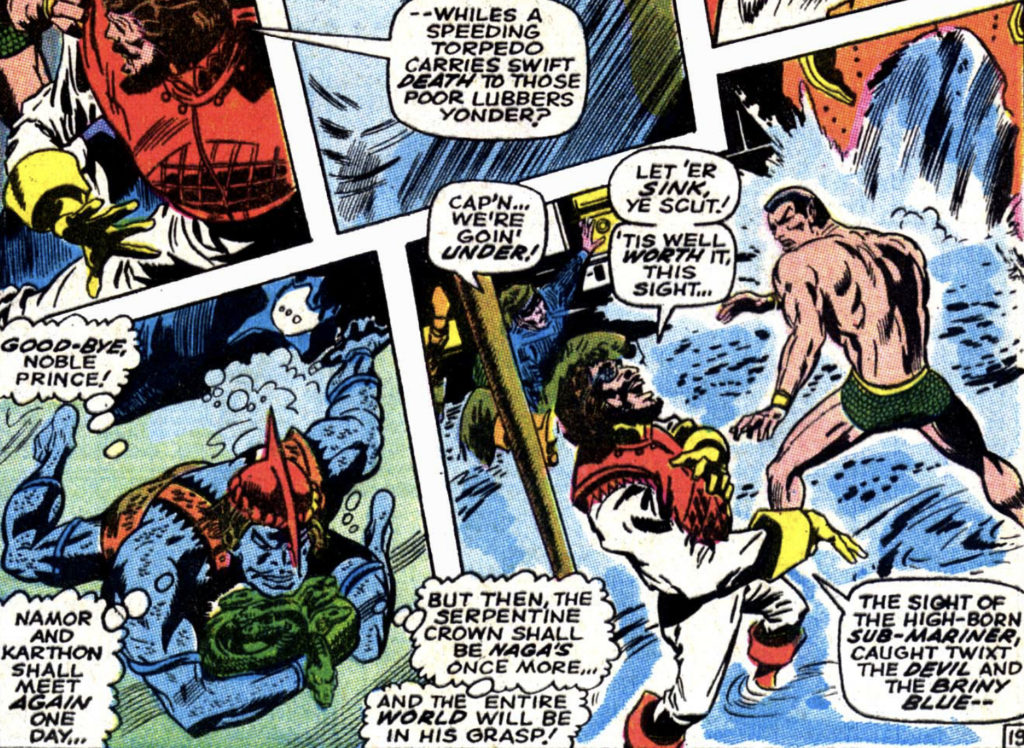 But before either of them win the fight, the pirate Captain Barracuda causes problems and allows Karthon to make off with the Crown.
It's a good story and it's foundational for the Crown, which reappears several times over the next few decades, but I do miss John Buscema. Certainly one can't complain about Gene Colan (or Marie Severin even), but Buscema's style fit this book perfectly.
Creators: Roy Thomas with Marie Severin (#9) and Gene Colan (#10-11).