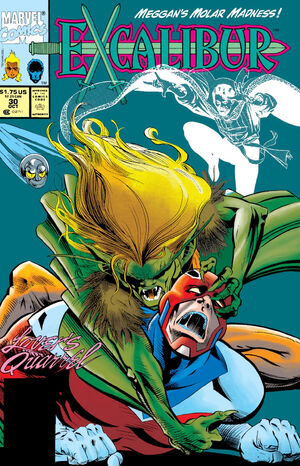 Chris Claremont takes a break from what may be his worst book ever and Dana Moreshead fills in. And offers something better than what Claremont has been doing with this book, so I guess this is a good thing.
It is Halloween story in which Meggan is turned into a vampire.  Dr. Strange helps save the day, after an attempt at a funny who's-on-first exchange with Wong.
And Doctor Strange helps out when a bunch of kids think Nightcrawler is a vampire.
There's also some satirical noirish stuff with Inspector Dai.

Very, very well done. It's a very cute story. Dana Moreshead was mostly known as a colorist. Too bad. He writes good! It's the first A grade Excalibur book!